The dowry that was part of a daimyo wedding included many different items that were used in daily life such as beauty products, writing equipment, games, arms, tableware and transport items and even included clothes and room screens. All together it formed an enormous amount of items both in number and in kind.
Dowry became customary from the early 17th century onwards, after which the amount, the type and the quality of the dowry gradually became fixed depending on social status. For weddings of the shogun, daimyo and nobility, new products would always be made specifically for the dowry. One of the most recognizable characteristics of the dowry of a Daimyo wedding is that all items would be decorated with one specific design pattern executed in gold and silver lacquer with added family crests.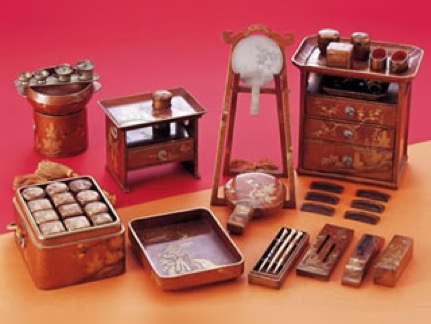 The collection of the Matsura Historical Museum contains mainly two sets of dowry. One is from Sume, the daughter of Matsura Sanenobu (33rd head of the family) who married into the Inagaki family. They returned the dowry as a memento when Sume passed away.
The other dowry is from Princess Shin who married to Hiromu Matsura (35th head of the family), which includes an extensive set of Hina dolls and attributes. Princess Shin was the daughter of Matsudaira Sadanobu, an influential and well-known advisor to the shogun who initiated the Kansei reforms.
The Matsura Historical Museum exhibits the Hina dolls in the period leading up to Girls Day on April 4. This extravagant and beautiful set consists of two pairs of Keshi Hina Dolls and `Nashiji`: over 100 accompanying miniature items made of gold painted lacquer such as beauty products, food related equipment and writing equipment.